10. San Pedro Prison, Bolivia
It is not as luxurious as some of the prisons on this list, though, it is definitely a comfortable one. When you see Prison San Pedro, you'll wonder if it's a correctional facility or a community of people forced to move and live together.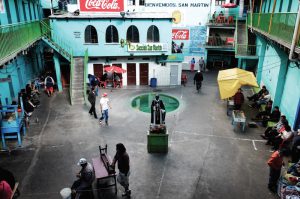 Inmates are allowed to write their own rules and regulations as long as the rules are fair. The prison hopes to prevent any problems by doing this and to keep the inmates comfortable. The prisoners have the right to live a luxurious life.
Life in San Pedro jail is funny, I mean to some degree if you think this is supposed to be a lock-up facility. Prisoners have the right to choose their own leaders and with their families set up the entire neighborhood.
The prisoners have their own set rules and punishment methods as well as means to mediate disputes.
The jail has been a long-standing tourist facility.
9. California Prison, USA
This is perhaps the most luxurious prison in America. The facility began charging a whopping $155 a night to unwanted prison tenants. Since it was completed in 2000, the prison decided to make use of that previously unused building.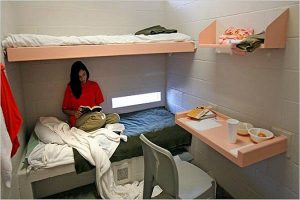 In addition to gaming tables, toilets, cells, beds, and showers, the jail is quite an improvement from the normal prison as inmates get to watch different television shows on a widescreen HDTV.
However, these new rates do not cover room service. Everything else is the same as in every jail.
This California jail, despite having only 54 cells, can house up to 96 inmates.
However, the service is available only to those convicted of minor offenses who are given prior judicial approval.
8. HMP Berwyn Prison, UK
The U.K.-based HMP Berwyn is the coziest jail in the U.K. yet. Inmates here get in their cells a phone, a laptop, and a shower.
This correctional facility can hold up to 2,100 prisoners who are called "men" before entering their rooms, instead of prisoners and guards knocking first.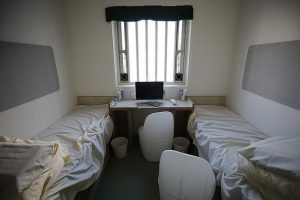 The provided laptops are used to order meals for the whole week, schedule visits and weekly shopping, and any other activities relevant to their studies.
Each room houses two prisoners. Despite having phones and laptops, the gadgets do not have Wi-Fi connections.
7. Justice Center Leoben, Austria
Justice Center for nonviolent offenders is a picturesque European correctional facility. The prison provides a single cell for each inmate, with a kitchenette and bathroom and a TV. In addition to all that, there is also a fully equipped gym, an outdoor refreshment area and a basketball court in the jail. All of these combinations would surely make for a very cozy phrase.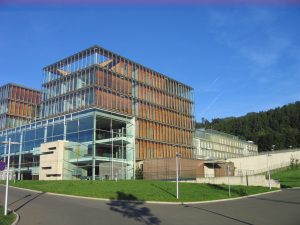 6. La Catedral, Colombia
Built under the design of former drug lord Pablo Escobar, La Catedral prison in Colombia was. This prison was built atop foggy mountains to keep the drug lord away from his enemies, instead of locking the kingpin of cocaine in.
Pablo Escobar agreed, but on his own terms, to a prison sentence. He built such a luxurious prison that it was often referred to as the "Hotel Escobar" or "Club Medellin," but has been called La Catedral or "The Cathedral" for a long time.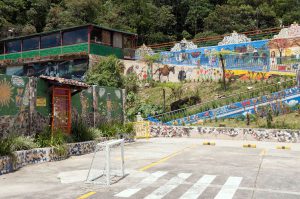 Among other cool things, the jail had a jacuzzi, a soccer field, and a waterfall. To Pablo Escobar the cathedral was more of a fortress than a prison.
Other extravagant things La Catedral had included a room with billiards, an industrial kitchen, bars with big screen TVs and a disco where Escobar would host wedding receptions. The prisoners ' feast includes caviar, stuffed ham, smoked trout, and fresh salmon, all together with some queens of beauty.
5. Otago Corrections Facility, New Zealand
Safety is of prime importance at the Otago Correctional Facility. Notwithstanding this, the institution offers secure jail rooms for inmates and greatly focuses on inmate transformation by building skills. The prison holds a number of classes in dairy farming, light engineering, and cooking among others. The correctional facilities are successfully working to rehabilitate the prisoners.
Don't be surprised if it came from the Otago Corrections Facility, or that microwave in your kitchen, or jammers that cell phone you are using to read this article. Speak of that jail as a warehouse, not a prison.
4. JVA Fuhlsbuettel Prison, Germany
JVA Fuhlsbuettel Prison was built in 1879, and is one of the oldest prisons in this region. Often known as Santa Fu, between 2010 and 2011, the prison underwent significant revamps that revamped its look and facilities into the' world class' it used to be.
The cell rooms are huge, with painted wood-like doors that create a ski chalet feel. Inmates in their quarters have sofas and coffee tables as long as they have a private bathroom with showers. With advanced facilities, the inmates are also permitted to do their own laundry.
JVA Fuhlsbuettel Prison also features a meeting room and a recording room. Also, inmates receive three-square meals daily along with enjoying dances in the conference room. This is pretty much a swanky place to do your sentence.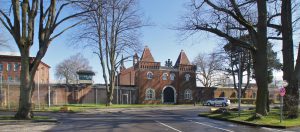 The telephone booths are also quite inviting, and less troublesome than in average prisons. The corners of the telephone have huge tables and comfortable, expanded chairs for the inmates to relax while they wait.
There's been a few escapes from JVA Fuhlsbuettel Prison, presumably because it's so comfortable, but can you imagine anyone risking being placed in a normal prison because they've been caught trying to escape such a beautiful and pleasant place?
3. HMP Addiewell, Scotland
The Addiewell Prison of Her Majesty is a licensed learning prison in south Scotland. The jail allocates 40 hours each week for successful skill building for each of its inmates. HMP Addiewell Prison's main objective is to give prisoners more rewarding and purposeful way of moving easily back into civilian life. All 700 prisoners are in good hands, here.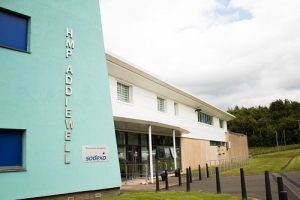 Under the management of Sodexo Justice Services, each prisoner will certainly be given a chance to return to a new life with a fresh perspective on life.
2. Bastøy Prison, Norway
For many, Norway's harsh climate can create an impression that the whole country feels like a prison. But it's a beautiful country with stunning architecture and magnificent alpine scenery. But there's more to it, Norway is populated with some of the world's most luxurious prisons, Bastøy Prison being one of them.
Bastøy Prison is one of the world's coziest places for inmates. This holds only 100 prisoners. This prison offers a relaxed and low key stay for its residents.
It is a maximum security prison that gives no chance of an eruption of mass brawls. In contrast, many former prisoners claim that the place is more of a vocational facility than a jail.
Unlike many of the prisons on this list, each prisoner stays in their own private cottages in Bastøy Prison and enjoys sports such as riding horseback riding, tennis, skiing across the country and fishing. These cottages, like the Maldives, have a place where the inmates can just chill under the sun and forget that they are even locked up first.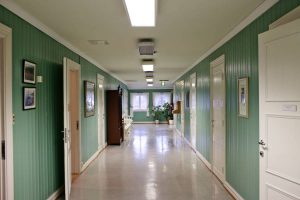 The reason Bastøy prison sounds like some kind of country cottage is because it is located on a 2.6 kilometer square island off the mainland.
1. Halden Prison, Norway
I told you Norway's got a lot of lavish jails. We looked up at Bastøy jail above, let's think about Halden now.
Halden Prison accepts prisoners from around the world and is one of Norway's largest jails. This covers creative and modern outdoor areas that exude a certain sense of Zen over them. The prison has received numerous critical acclaims for its exceptional living conditions and practices, allowing inmates to take part in all manner of sporting activities. The jail also has a music room, if the party has an emcee.