10.Knipschildt's La Madeline Au Truffe- Chocopologie-($250 each)
The Truffe's La Madeline retails at $250 per piece, which works at a whopping $2,600 per lb.
What makes it so costly? It consists of a rare French Perigord truffle surrounded by heavy cream ganache, sugar, truffle oil and vanilla coated in 70 per cent Valrhona dark chocolate and rolled in fine powdered cocoa.
It's essentially a truffle made of 70 per cent Valrhona dark chocolate, heavy cream, cinnamon, truffle oil, and vanilla. It's also listed by Forbes Magazine as one of the most expensive chocolates. It consists of a rare sort of mushroom named French Perigord. This truffle is surrounded by dark chocolate from Valrhona, and then rolled with a fine cocoa powder. It becomes shocking by packing it in a silver box and then tied with a matching ribbon. Shipping is to be done within 14 days of the order.
9. To'ak Chocolate Bar 50 Gram-($260 each)
To'ak Chocolate is an Ecuadorian company which was founded by Jerry Toth and Carl Schweizer in 2013. To'ak (toe-ahk pronounced). They created the mark of luxury: To'ak Chocolate. The chocolate bars are produced with the very rare Arriba cacao variety called Nacional cocoa, which some experts formerly thought was extinct. It is said to have more floral notes and flavour complexity than any other form of cacao.
It is considered to be made from a very rare Ecuadorian cacao variety called' Nacional' that occurs before 5,300 years ago. These chocolates are rich in tannins and other polyphenols, with dark chocolates and wine flavors. These compounds are also referred to as flavonoids which can be altered by an oxidation process. This chocolate consists of the use of two ingredients like cocoa mass and cane sugar.
8. Delafee Chocolate Box With Swiss Gold Coin-($390 for 8 Pieces)
Feast 24 karat Gold Chocolate Box with Antique Swiss Gold Coin Our classic DeLafée gold chocolate with a Swiss central bank collectible antique gold coin: Swiss Vreneli Francs 10. The coins are 8 Swiss chocolate coated with 24 karat edible gold and an authentic Swiss gold coin in a gift box from 1910 to 1920.
It is a 24 karat chocolate with a very Delicate taste. This chocolate is made with Swiss coin Antique Gold. The Box of Chocolate is made to look like a box of jewels. A Cheerful gift box is made by providing 8 pieces of Swiss chocolate with a Swiss antique gold and 24-carat edible gold.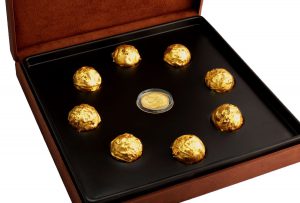 7. Debauve & Gallais Le livre-($550 for 35 Pieces)
It is one of the most expensive chocolates that is presented in cases of' Haute Couture.' This chocolate comes with a coat of arms bag and a greeting card with fine gold molding. The box is designed to be secure, so that the chocolate is handled properly. The' old lady' of the Rue Des Saints Peres is made over 200 years to have a leather box in which there are chocolate candies. The chocolates have smooth ganaches that taste good.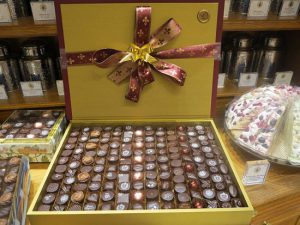 6. Noka Vintages Collection-($854)
Noka Chocolate was an American company, founded by Canadian accountants Katrina Merrem and Noah Houghton and based in Plano, Texas, which commercialized itself as "a chocolatier specializing in gourmet chocolate gifts." The company sold its products directly and through its primary retail partner, Neiman Marcus department store.
In 2006, Forbes.com's business website included NōKA's Vintages Collection as one of the world's most expensive chocolates listed at $854 per pound. D magazine called the chocolates "insane cost."
Noka chocolate is the premium packaged chocolate that has been listed as the best chocolate in the USA. It is made with dark chocolates from the finest as well as the single estate. It tastes shows the beautiful essence of chocolates and is one of the purest chocolate types. The chocolate is offered in two creative packages, including Encore boxes and gift boxes for signatures.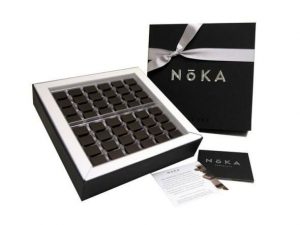 Read In the Next Page 
Pages: 1 2