Water is life-saving and necessary but clean drinking water is essential. Find the best water purifier for your home and stay healthy .Drinking purified Water is one of most essential things that keep us healthy. In this post, I am going to provide the list of Best Water Purifier in India for 2019.
WHICH PURIFIER TO BUY? Top 10 Best Water Purifiers
WE'LL HELP YOU FIND THE RIGHT ONE.
In the developing world, water-borne diseases are increasing at an alarming rate. As a result of pollution, the water you drink may contain heavy metals and iron rust which boiling cannot remove. It's time you choose from a range of water purifiers that understand your needs to makes sure every drop you drink is pure and safe.
Everything from food to Air and Water is affected by pollution. Say thanks to Water Purifiers. Now we can Drink safe water by installing a water purifier at our Home .
1.
Kent Grand Plus Mineral RO+UV Water Purifier
An advanced and futuristic RO water purifier with KENT's patented Mineral RO TM technology and an inbuilt TDS controller which retains the essential minerals in the water ensuring the purest and perfect drinking water for you and your family. Suited for Indian homes and offices and suitable for purification of brackish/tap water/municipal corporation water supply. Read User Review
Kent Grand Plus Mineral RO specs: 
Purify Inlet Water from all Sources
The technologically advanced water purifier is ideal for purifying water from different sources. Whether you get brackish, tap as well as municipal corporation water supply, KENT Grand Plus can purify all types of water.
2.BlueStar Aristo
Aristo is a water purifier from Blue Star with RO+UF purification technology along with Aqua Taste Booster. Aqua Taste Booster enhances the taste of water by maintaining optimum ph.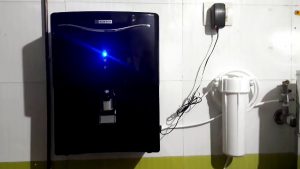 legant looks complemented by superior performance

Alerts like purification alert, tank and low pressure alerts

Capacity: 7 liters

Warranty: 1 year on product

Power: 36 watts; Operating Voltage: 220 – 240 volts

Package includes: Water Purifier, Installation kit, Pre filter and User manual
Double Layered RO+UV Protection
Double layered RO + UV protection ensures that the water you drink is absolutely safe. While RO removes dissolved impurities, micro organisms, heavy metals and radioactive matter, UV deactivates micro organisms such as bacteria, viruses and cysts.
3.Aquasure from Eureka Forbes
Aquasure from aquaguard 6 stages purification additional purification – uv uv wattage – 4 watts germicidal wavelength 253.7 Nm cartridge capacity – 6000 ltrs alert system – yes water level tank indication – yes max. Turbidity level tolerance – 15 nt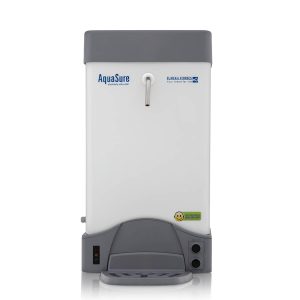 Maxima dual RO+UV purification is best suited for water with a high TDS & has a salty taste.
Advanced dual ro+uv purification

Long cartridge life of 6000 litres

6 Litres storage capacity

Energy saving mode
It comes with an intensive and efficient multi stage RO+UV purification process which removes excess TDS and all disease causing bacteria, viruses, protozoa, cysts, other physical & chemical impurities. It also comes with energy saving feature. Check the price
4. Aquatec Plus
Aquatec plus is one of the leading in water purifiers to the user. These water purifiers provide the services to the clients, as they are completely tested on all parameters. Aquatec plus RO+UV+UF +TDS Water Purifier gives amazing features, great functionality and impeccable service.
Works upto 2000 tds. 90% rejection rate

Comes with a 1 year warranty on product and on its spares

Purifier comes with pre-filter and all fitting accessories, (safely put inside the storage tank)

Removes up to 99% of contaminants with real reverse osmosis technology with filters .
5.Livpure Glo
The Livpure Glo 7-Litre RO + UV + mineralizer water purifier comes with a large storage of 7 litres and is packed with numerous features that ensure that you have ready available water at all times. This system works even in the absence of water or electricity as it can store purified water. Embedded with an advanced filtration system, Livpure ensures 100% pure water every time.
Elegant and Sleek Design
Power packed with features like purification process and full tank indicators, this water purification system looks extremely stylish while placed in your kitchen. Just place it close to a water outlet and get safe and pure drinking water in an instant.
6 Stage Advanced Purification System
This water purifier comes with 6 stages of filtration – sediment filter, pre-activated carbon filter cum absorber, RO membrane, UV disinfection column, silver impregnated post carbon filter and mineraliser. This system eliminates bad taste, odour, hardness, salts, viruses, bacteria and other harmful substances from water, making is pure and safe for consumption.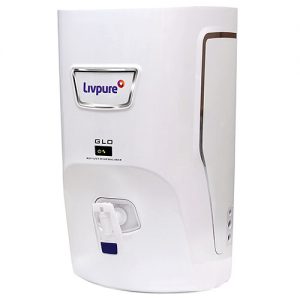 Technology: RO+UV+ Mineralizer water purification

Capacity:7 litres

Includes: Water purifier, User manual, Warranty card and Installation kit

Type of Tank: food grade plastic
6. Havells Max
RO and UVfuturistic design its unique design is only of its kind that lets you to mount it in a corner. Featuring a compact design. Best-in-class purification technology 100 percent ro and UV purification in 7 stages with germicidal UV-c provides absolute safe drinking water. Revitalize restructures water molecules for improved hydration, and mineral absorption. Minerals technology ensures PH balance and fortified safe and healthier water. Convenience features it features a space-saving design that can be mounted in a corner, on a wall or kept on a table top. Other than iprotect auto water cut-off, it also boasts consumer-friendly alerts for self-diagnostic, purification process, tank full, low water pressure, and error alerts for UV, SV, and pump failure. Zero splash faucet unique soft touch faucet: Benefits hygienic water, zero splash and smooth flow. Smart alerts process alerts: Self-diagnostic, purification and tank full. Error alerts: UV, SV or pump failure. Ingress protection tank cover stops external invasion of insects and dust particles. Removable tank convenience to you, easily removable water tank to clean it periodically. 1-in-a-million lifetime service at havells we pride ourselves in offering exemplary products to our consumers and when it comes to our installation and post-sales service, it's not so different either.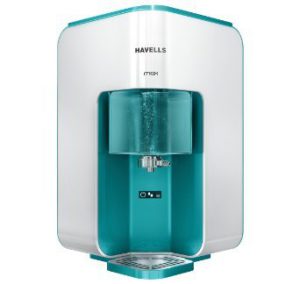 Absolute safety through RO and UV purification, water passes through the ro membrane and then UV purification to ensure absolutely safe and pure drinking water

Minerals cartridge it corrects the PH of purified water, adds back full spectrum of natural minerals and trace elements and provides healthier and tastier water always

Revitalizer it restructures the water molecules and makes it biologically active that improves the hydration and mineral absorption

Iprotect purification monitoring constantly monitors the purification process and ensures safe water always .
7. Ruby RO
Ruby Reverse osmosis (RO) drinking water systems include mechanical filtration to remove particles carbon absorption and adsorption to remove chlorine, taste, odor and chemical contaminants, as well as a membrane remove dissolved solids at the ionic level. No other purification system can provide better removal. Reverse osmosis system provide the best quality drinking water for your family.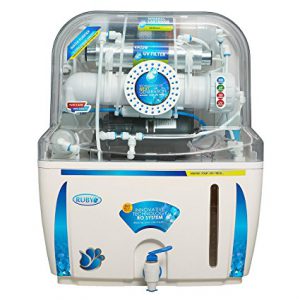 Electrical & Storage : Electric purification – suitable for areas with water shortage
12 L : More the capacity, more the users can be served with drinking water
RO + UV : Suitable for borewell water, removes microbes and Hard Water TDS
8.HUL Pureit
it's clean and safe, free from germs when purified water is obtained from HUL Pureit Ultima RO+UV Water Purifier. This advanced water purifier has the capacity to clear 10 million germs from 1L of water as the water passes through various treatments like UV and RO to assure the safest drinking water for you and your family.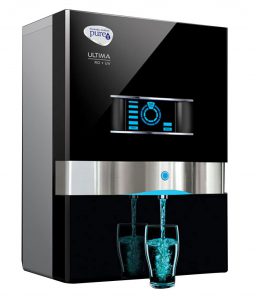 Type: Electric with storage

Warranty details: 1 year on product

Technology: RO+UV water purification

Capacity:10 litres

Includes: Water purifier, User manual, Warranty card and Service center details

Type of Tank: food grade plastic