10. Jerry Garcia's Custom Doug Irwin "Tiger"
Price: $957,500
Jerry Garcia was Grateful Dead's lead guitarist. Between 1979 to 1989, he played his custom made Doug Irwin guitar for a whole decade.
His name, "Tiger" came from Jerry's custom painted tiger head on the guitar shell.
The custom Doug Irwin was Jerry's last guitar ever played in public; that's one of the reasons he got so much at the auction.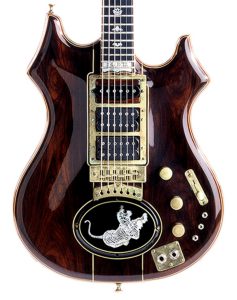 Jerry Garcia's Custom Doug Irwin "Tiger" was sold to Jim Irsay, owner and CEO of the Indianapolis Colts, at the auction by Guernsey's auctioneer in 2002 for $957,500.
09.Eric Clapton's "Blackie"
Price: $959,000
Next on the list is "Blackie," the famous mashup of three different guitar parts by Eric Clapton.
The story goes that Eric Clapton has decided to purchase six instruments, giving Pete Townsend, George Harrison and Steve Winwood one each.
Instead Clapton patched sections of the other three guitars together to create "Blackie."
It became his most popular instrument, recording in the studio with it and playing it at countless live performances.
Clapton retired "Blackie" in 1985 after a good run and went on to sell it for $959,000 at the auction in 2004.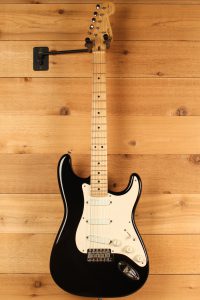 8.Bob Dylan's "Newport Folk Festival" 1964 Fender Stratocaster
Price: $965,000
Being the first electric guitar ever played by Bob Dylan during a live performance, it goes without saying that this instrument has some significant historical value.
This marked a time in history when he was personally booed on stage by his own fans, as they were not impressed with his guitar choice.
We were used to acoustic versions of all his songs, and when he came to the Newport Folk Festival in 1965 we made sure to let him know.
Dylan's success and guitar preference marked his transition to more electronic instruments.
Because of who owned the guitar and the story behind it; for an incredible $965,000, the 1964 Fender Stratocaster sold at the auction.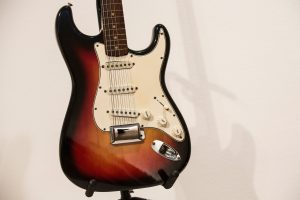 7. Keith Richards 1959 Les Paul
Price: $1 Million
1959 Les Paul is the world's seventh most expensive instrument.
Regular 1959 Les Paul's are worth more than six figures, without a popular name's help, and so far there aren't so many left knocking about.
Nevertheless, during the Rolling Stones debut appearance on the Ed Sullivan show, which was a landmark moment in Rock and Roll history, Keith Richards performed this particular one.
Most popular bands and artists owe their appearance on the Ed Sullivan Show some of their popularity, and collectors and memorabilia buyers recognize how events such as this add significant value to things such as Keith Richards 1959 Les Paul.
With that in mind, the guitar sold for a whopping $1 million at auction in 2003.

Pages: 1 2