Every woman desires picture perfect, glowing skin. Whether you are a student, homemaker, or a working professional, it is very important to have good skin.
Our skin is fragile, and exposing it to harmful chemicals is always a huge risk to take. Stressful lifestyles, hectic work schedules, inadequate sleep, lack of nutritional diet, pollution, harmful sun rays (UVA/UVB), excessive smoking, and drinking alcohol are the major factors which make your skin dull and dry.
Moisturise
The path towards glowing skin that is soft, as well as supple, inevitably involves moisturising generously, every morning and night. While moisturising won't lighten skin directly, it will help to keep your skin healthy and lively. Make sure to choose a moisturiser according to your skin type!
Use Sunscreen
If there's one thing you absolutely cannot skip in your skincare routine, it's your sunscreen. It doesn't matter if it's cloudy, wintry, or sunny! Always wear sunscreen when stepping out, because the sun's UV rays are everywhere, all the time. You can't completely avoid tanning, but you can reduce damage to your skin with some sunscreen. Choose a good sunscreen depending on your location and activity, and your skin will thank you even as you age!
Eat Right, Sleep Well, and Work Out
Tips to get glowing skin do not always have to involve expensive products and treatments. It can be something as basic as altering your lifestyle habits. Trust us, they are highly effective, and come with absolutely no side effects!
Food-Sleep-Exercise- It's the holy trinity of good, healthy skin. You can't keep your skin healthy and glowing if you're not eating right. Include tons of green, leafy foods in your diet, stay off excessively sugary stuff, and if you're a non-vegetarian, eat all the fish you want!
Ensure that you get at least seven to eight hours of (peaceful) sleep every night, so that your skin has enough time to repair everyday damage. Exercise is a must, too. It makes sure you are healthy and active, which eventually translates into healthy, glowing skin.
Drink Water
Hydrate, hydrate, hydrate!
Without enough water, your skin can end up looking dull and lifeless. Drinking enough water flushes out toxins from your body and keeps your skin supple and glowing. So take that water bottle with you wherever you go!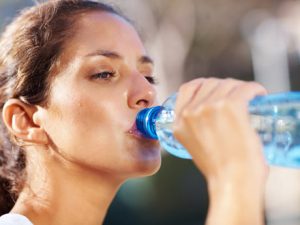 You skin needs care, just like the rest of your body. Focusing on your own care goes a long way in ensuring healthy and glowing skin. You need not necessarily opt for over-the-top skin care treatments. Of all the tips for skin glow that flood the market, pick up whatever you can and practice it on a daily basis. Even basic care can keep your skin healthy and nourished. Don't let dark and dull skin sap the life out of you. Go out and flaunt your natural glow!