Viewing your (complete) Instagram search history is very straight forward. Once you have opened your Instagram app follow these steps to view it:
How do I view my Instagram search history :
On the very bottom of your screen you can see 5 different sections. A house, a search icon, a (+) icon, a heart and your profile picture.
Press the "search" icon
at the very top of your screen you can see a bar that says "search"
Tap inside that bar and you will be shown this screen;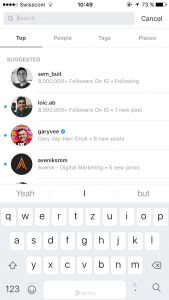 This shows you which people, hashtags and locations you have searched for recently or are interacting with the most.
To view your complete search history tap the bar that says "people" right next to "top".
You will be shown this screen
This shows you all the people you have searched for since you last cleared your search history (more on that later). Simply scroll down to see the whole list.
Now we will move to recently searched hashtags which are located right next to the tab saying "people". The tab to right named "tags" is where you can see the your searched hashtags.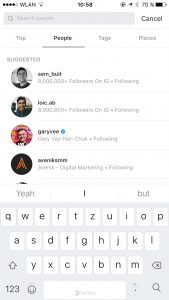 Here the same applies; all most recently searched for hashtags are located at the top while when you scroll down you will find all hashtags since you last deleted your search history.
Finally simply repeat the process to find your geolocations (places) history.
That is how you view your search history on Instagram. Keep in mind that when you delete your search history (as shown below) you will not be able to retrieve previous searches any longer.
Best Status Maker