The All in one package of Music Editor , It lets you Trim your music file ,Merge two files, Convert video to mp3,Change music file format,Compress audio, Reverse, Change speed etc.
It also support to boost your music volume & mute or remove part of audio file you want.
This Audio Editor is meant to provide all music editing tool in single lite app, This app is very light ,Low in size & very easy minimal design.
The Best part is that you can view all edited music file on single window & can view progress update of each task you process.Also this app support run multiple task in background. You can get the running task information via notification or Running Task Screen.
Best music editor app for android
Top Features : 
● Simple Design – Very easy & Minimal design,Easy to understand.
● All in One Tool – A complete package of All music tool in single app.
● Support all format – It support mostly all music audio format such as mp3, aac, amr, flac, aaa, m4a, ogg etc
● Very Lite – It is very light app, Low in size & smooth app navigation.
● Run in Background – All operation are process in background so there is no lag.
● Audio Manger – Your all output files can be easily accessible at one place.
● File Manager – Also can choose path before where you want to save.
● Multiple Task – It supports multiple task to queue with progress update.
Top Tool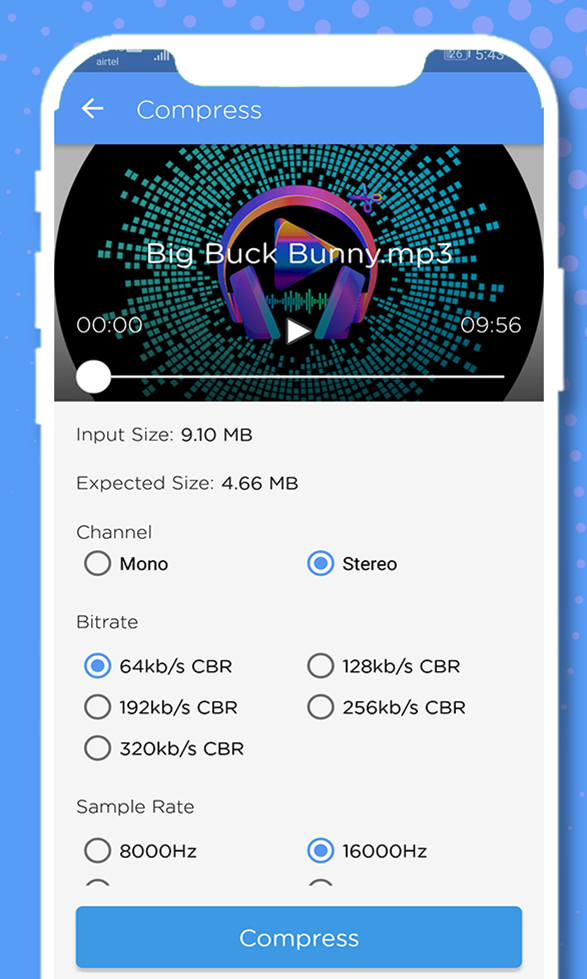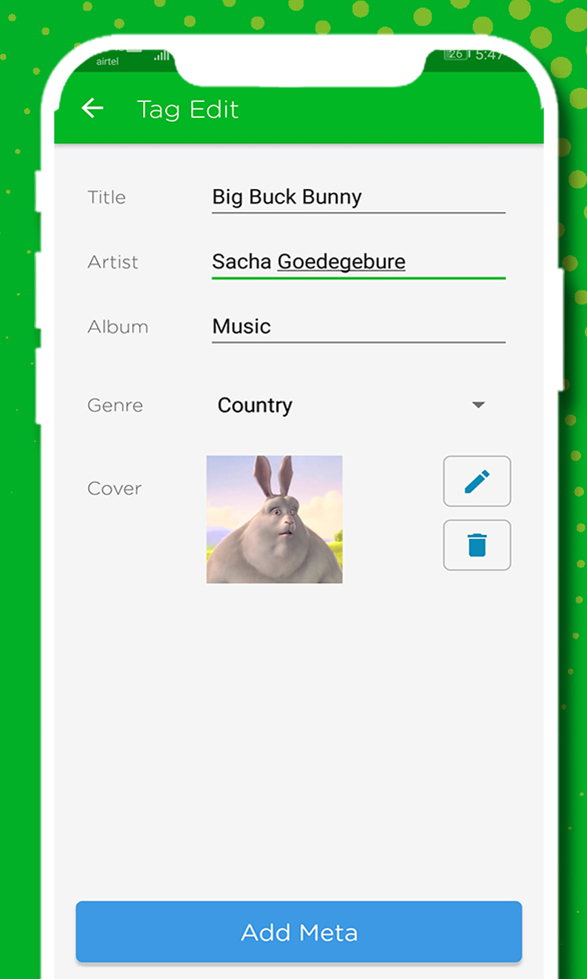 Video to Audio 
Convert any video into mp3 audio very easily ,Also you can select part of video before convert to music. Convert video to music file to save storage space. Also has option to choose format AAC or MP3.
Music Cutter 
The Best simple & easy way to cut music without unnecessary controls. Just select part of your audio to keep & trim Fast without loosing quality of your music.
Merge(Join) Music 
This app also support to join two music files into one mp3, Just select two audio & merge into single mp3 audio.
Change Format
Music editor support to change audio format from another format. You can convert from any format such as amr, mp3, m4a, flac, wav, ogg.
Add Metadata
Music editor lets you to add or edit metadata tag of your music file, even you can add own cover to music file.
Boost Volume
If some music file sound is low, You can increase volume of audio file upto +20db more also you can decrease sound.
Compress Music
Compressing music lets you to change bitrate, Sample rate & audio channel of your own choice. Also you can able to know the output size before compress.
Change Speed
Easy to change audio speed either you can increase audio speed to listen fast or slow speed upto 4x
Reverse Audio
Reverse Audio feature lets you to reverse any any music file for fun.
Mute or Remove Part of audio
You can mute any part of audio by selecting portion of audio file easily. Also you can completely remove selected part & reduce size
Mix Music
Mix music lets you to mix two music files into one by overlapping audio & output will be largest from both audio.
Just Use this Best Music Editor and you can do all of this and much more. That also Completely Free